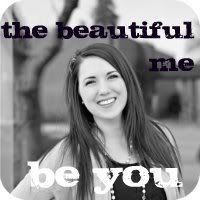 It's funny because I was really thinking about this Sunday. I think after a semester of working with children with special needs and my husband being gone I stopped caring about myself. My makeup. My hair. My clothes. The list goes on. Then I started caring and it wasn't really healthy. On Sundays I let the comparison monster come out and wreak havoc in my brain.
"That lady has two babies and she is much thinner than me. Am I the only person here who isn't running marathons and who has a dysfunctional family?..." and the list goes on and on as my imagination pulls out new comparisons.
The list goes on and then a friend sat down next to me who is both pregnant
and
thinner than me. She said "Man, I wish I could be skinny like her."
This is when how ridiculous this was really hit me. "You are growing a human, you aren't suppose to be skinny- you're supposed to be healthy. You are beautiful!" Besides that, I realized I need to just stop comparing myself to anything but my best self. It's a cycle and it creeps up slowly...and then before I know it I am out of control. Are there things I can improve? Most definitely, but I think people go a little crazy on this myself included.
I love my
eye color
which is a honey-ish color.
I love that I have at least two dimples on the right side of my face when I smile underneath my mouth.
I love that I am 5'3. Skirts are usually long enough and boys were always tall enough.
I love that I am easily amused.
I love that after living in Utah for 4 years that people can still tell I am from the south.
I love that I have had a lot of experiences so I can have empathy for people (although not at the time).
I love that I am becoming a better person.
I love beautiful me.